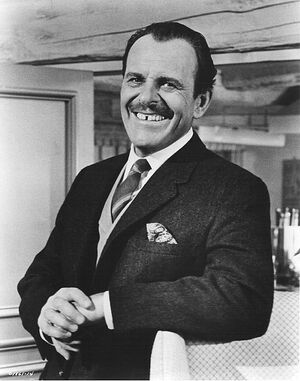 Terry Thomas was a distinctive English comedian and character actor who became known to a world-wide audience through his many films during the 1950s and 60s. He often portrayed disreputable members of the upper classes, especially cads, toffs and bounders, using his distinctive voice; his costume and props tended to include a monocle, waistcoat and cigarette holder. His striking dress sense was set off by a gap of a third of an inch between his two front teeth. He was also known for catch phrases such as "What an absolute shower", "Good show", "You dirty rotter" and "Hard cheese" Born in London, Terry-Thomas made his film debut, uncredited, in the 1933 film The Private Life of Henry VIII. He spent several years appearing in smaller roles, before wartime service with Entertainments National Service Association (ENSA) and Stars in Battledress. The experience helped sharpen his cabaret and revue act, increased his public profile and proved instrumental in the development of his successful comic stage routine. Upon his demobilisation, he starred in Piccadilly Hayride on the London stage and was the star of the first comedy series on British television, How Do You View? (1949). He appeared on various BBC radio shows, and made a successful transition into British films. His most creative period was the 1950s when he appeared in Private's Progress (1956), The Green Man (1956), Blue Murder at St Trinian's (1957), I'm All Right Jack (1959) and Carlton-Browne of the F.O. (1959). From the early 1960s Terry-Thomas began appearing in American films, coarsening his already unsubtle screen character in films such as Bachelor Flat, It's a Mad, Mad, Mad, Mad World and How to Murder Your Wife. From the mid-1960s he frequently starred in European films, in roles such as Sir Reginald in the successful French film La Grande Vadrouille. In 1971 Terry-Thomas was diagnosed with Parkinson's disease, which slowly brought his career to a conclusion: his last film role was in 1980. He spent much of his fortune on medical treatment and, shortly before his death, was living in poverty, existing on charity from the Actors' Benevolent Fund. A charity gala was held in his honour, which raised sufficient funds for him to live his remaining time in a nursing home accompanied by his second wife, Belinda.
Ad blocker interference detected!
Wikia is a free-to-use site that makes money from advertising. We have a modified experience for viewers using ad blockers

Wikia is not accessible if you've made further modifications. Remove the custom ad blocker rule(s) and the page will load as expected.