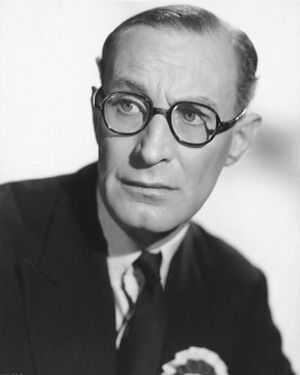 Richard Wattis was an Enlgish character actor.
He attended King Edward's School, Birmingham and Bromsgrove School, after which he worked for the family electrical engineering firm of William Sanders & Co (Wednesbury) Ltd. a major manufacturer of electrical switching equipment, his uncle was the managing-director, William Preston (1874-1941) who was also the Conservative M.P. for Walsall between 1924-1929. After leaving the family business Richard Wattis became a professional actor. His debut was with Croydon Repertory Theatre he made many stage appearances in the West End. His first appearance in a film was A Yank at Oxford (1938), but war service interrupted his career as an actor. Wattis served as a Second Lieutenant with the Arms Section of Special Operations Executive at Station VI during World War II.[citation needed]
He is best known for his appearances in British comedies of the 1950s and 1960s, typically as the "Man from the Ministry" or similar character, with trademark thick-rimmed round spectacles.
These included the St Trinian's films (The Belles of St Trinian's, Blue Murder at St Trinian's and The Great St Trinian's Train Robbery), as Manton Bassett, a civil servant who was the Deputy Director of Schools in the Ministry of Education, where he was often seen frowning and expressing indignation at the outrageous behaviour of other characters.
To American audiences he is probably best known for his screen performance as the British civil servant Northbrook in The Prince and the Showgirl (1957) with Laurence Olivier and Marilyn Monroe. The film script was by Terence Rattigan of his own successful West End play which had originally starred Olivier and his then-wife Vivien Leigh.
Other films included Hobson's Choice, Chitty Chitty Bang Bang, Carry On Spying,[1] The Colditz Story, Dentist on the Job, Very Important Person, The Happiest Days of Your Life and The Longest Day.
Richard Wattis also appeared on television, including a long-running role opposite Eric Sykes and Hattie Jacques in Sykes as their next-door neighbour, and appearances in Danger Man, The Prisoner, The Goodies, Hancock's Half Hour[1] and Father, Dear Father. In 1957-58, he appeared as Peter Jamison in three episodes of an American sitcom filmed in Britain, Dick and the Duchess, starring Patrick O'Neal and Hazel Court.